Choose the Service Plan That's Right for Your Laboratory
Please contact us for information about service plans in your local geography.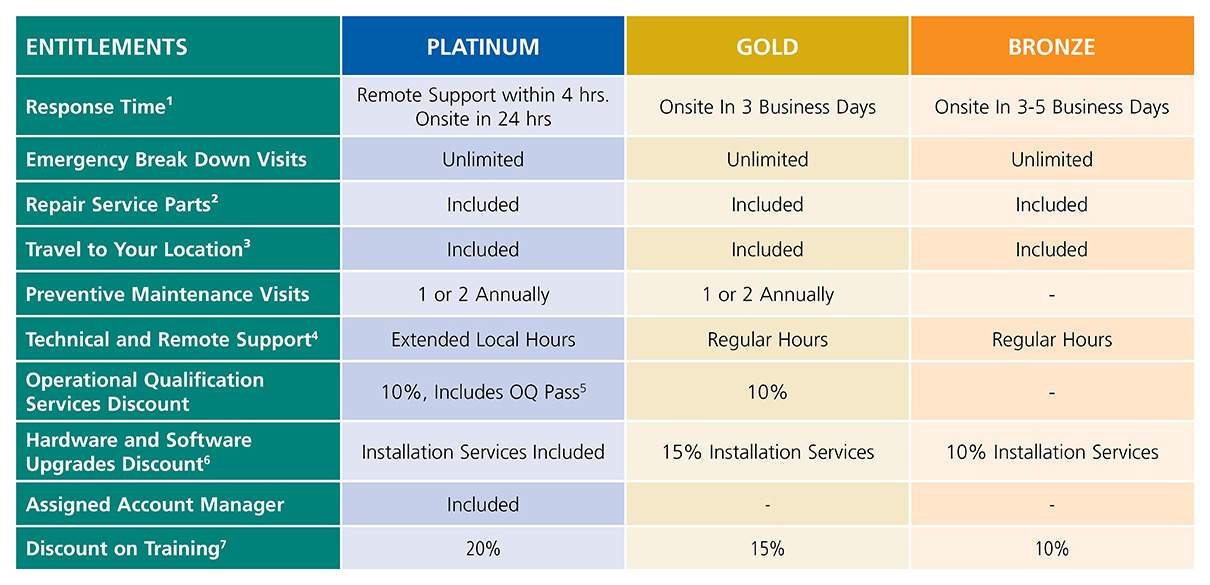 All response times vary by region, are based on a 'best effort' basis and apply to PerkinElmer's standard business hours for the local region, excluding nationally recognized business holidays. Please consult your local service engineers for additional information.
Excludes all consumables. Certain parts may also be excluded based on instrument type. Please contact your local service engineer for details.
Zone 1 travel is 100% included in service plans that include onsite travel. Travel outside Zone 1 may occur additional costs.
Technical and remote support hours are, unless otherwise noted, 9am - 5pm EST. Extended local hours available in early 2021.
When performed with a PM, any requalification required completed at no charge. Does not apply to any qualification failures due to end user, method development or application.
Discounts applicable to installation services only and do not apply to hardware/software product purchases.
Excludes training related to the following products: Informatics, diagnostics, all imaging instruments, automation & liquid handling, high content screening, radiometric detection, newborn screening and microplate readers.
Below are some additional solutions to meet your needs and budget.
Feel secure in maintaining PerkinElmer equipment with flexible options to support your service needs and budget.
Fundamental Plan - A cost-effective plan that covers one annual repair and 1 PM for less-critical equipment with response times within 3-5 days to get systems up and running again.
Preventive Maintenance Plan - Extend the lifespan for non-critical equipment with base-level preventive maintenance offerings.
Remote Plus Plan - Minimize costs with this plan that provides remote support at the times you need it and a visit from a qualified engineer to help make sure your equipment is running smoothly.
Depot Repair - Ship your PerkinElmer instrument to our Service Repair Centers (SRC) for return-to-factory or depot repair services on select instruments (available for applicable instruments only).
Dispense Head Repair - OneSource will re-condition your dispense head back to like-new standards at a fraction of the cost of purchasing a new dispense head.
*Please contact us for information about service plans in your local geography.
Please refer to PerkinElmer's brochure and Terms & Conditions for additional details on our support plans.