check quantity
Reveal The Pulse of Your Lab
From an office, a conference room, or even from the comfort of home, PKeye™ workflow monitor will provide valuable information such as instrument status, manual intervention steps, errors and video recordings. This can all be viewed through the web-based PKeye dashboard.
Buy Now
Please enter valid quantity
Please log in to add favorites.
NULL OR EMPTY CART
Offline capabilities only, you must also order CLS153940 for full cloud access.
Overview
Enhance your Laboratory Productivity and Throughput
Manual interventions and troubleshooting can decrease the productivity and overall throughput in your laboratory. Through the cloud dashboard authorized users can quickly view the status of all their instruments. This live snapshot enables monitoring instrument and workflow productivity, lab efficiency and to check-in on the progress of runs. The PKeye Workflow Monitor can notify you instantly when a manual intervention workflow step occurs so valuable lab researchers do not have to waste time waiting in front of the instrument and can do more valuable tasks.
The PKeye Workflow Monitor works through a separate control computer. This computer connects with any instrument that has installed the PKeye listener application. The data from the instrument goes through the PKeye listener application to the control computer and is then uploaded to the PKeye cloud. This enables 24/7, anywhere in the world, access and monitoring of your valuable lab assets. More than ever before, researchers can feel comfortable running instrumentation unattended, enhancing your productivity and laboratory throughput.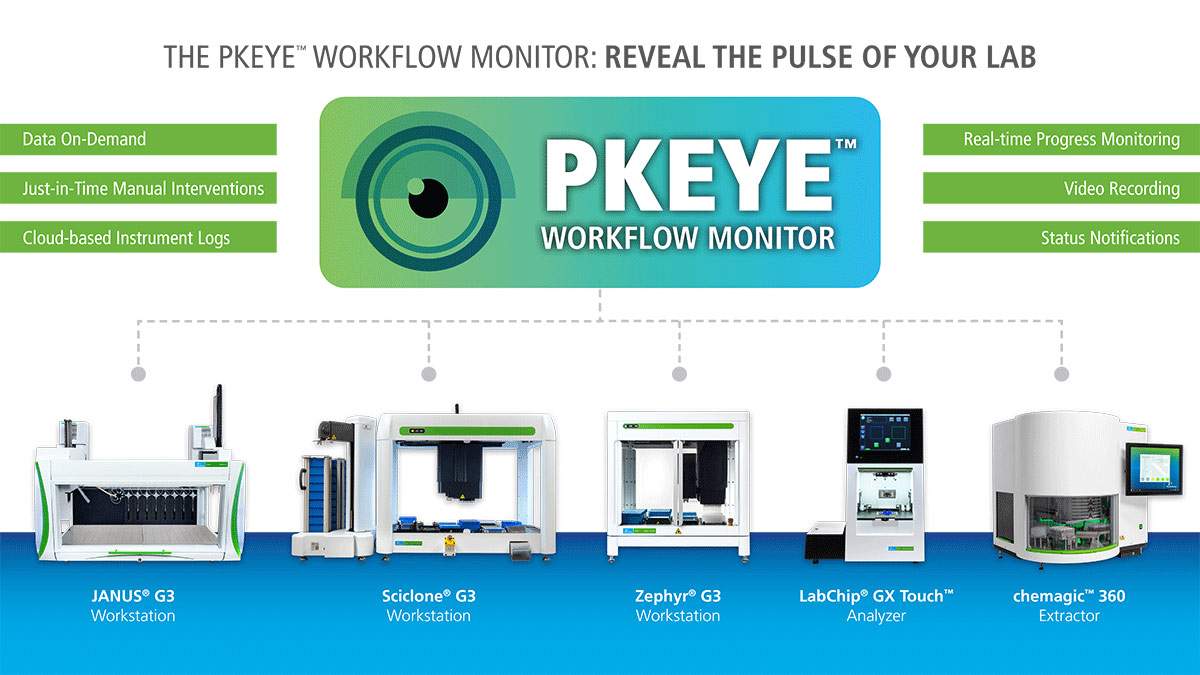 The PKeye Workflow Monitor:
Captures each instrument event (such as run start, run complete, error, manual touchpoint) in a cloud based log file
Remotely notifies via email or SMS of errors, manual intervention needed or run status
Enables access to recorded videos of past errors
CLS153622 includes:
PKeye control computer
2 cameras
Listener software
Miscellaneous Hardware
Specifications:
PKeye Control Computer
Dell™ OptiPlex 7070 Micro PC
Processor
Intel® Core™ i7-9700 (8 Cores/12MB/8T/3.0GHz to 4.7GHz/65W)
Operating System
Windows 10 Pro 64bit
Memory
16 GB, 1X16 GB DDR4 2666M Hz Non-ECC
Hard Drive
M.2 2TB PCle NVMe Class 4
0 Solid State Drive

Notifications: Require internet access, web browser or mobile phone
For research use only. Not for use in diagnostic procedures.