Introduction
To help Pharma decrease drug development timeframes and costs in pre-clinical phase, PerkinElmer talked to industry leaders from the top 20 Pharma globally ranked for R&D spending, as part of a market research survey, to learn how these market leaders are working to increase the productivity, efficiency, and speed of drug discovery in the short and long term.
Drug discovery is a lengthy and costly process with declining productivity in recent decades (Zdrazil, Richter, Brown, & Guha, 2020, Morgan 2018). From the first steps in the lab with target identification to post-market surveillance, the entire process can take 15 years and cost more than $1 billion (Matthews, Hanison, & Nirmalan, 2016).
Drug Research & Development Expenditures:

Through 1:1 listening sessions with high-throughput screening directors, group leaders, and principal investigators, PerkinElmer gathered information on current practices, new trends, and the obstacles in lead generation. By listening to descriptions of and learning about the customer, PerkinElmer can offer real-world insight, data, artificial intelligence, and enterprise expertise to solve discovery workflow problems.
Drug discovery trends for the top 20 R&D Pharma
Through partnerships with market leaders, PerkinElmer monitors best practices and emerging trends so that it can offer innovative, cost-effective solutions to clients working to advance the speed and success of drug discovery.
In 2020, Volker Eckelt, PhD, Senior Strategy Leader, PerkinElmer Life Sciences, designed and conducted a survey to understand differences in current discovery practices and obtain forecasts about changes in the use of high-throughput screening (HTS) for drug discovery. The survey gathered the following data on participants':
Therapeutic areas
Screening targets and selected models
Library size
Screening platforms for HTS and corresponding decision criteria
Outsourcing trends
Data analysis and reason for project failures
Suggestions for future investments
In addition to helping customers benchmark themselves against their peers or market leaders, the survey also informs PerkinElmer's product development. "The key findings are important to our development of new reagents or new techniques, to get ideas where PerkinElmer can kick off new products, new solutions for the customer," said Dr. Eckelt.

The Voice of the Customer – What They Said:
What high-throughput screening approaches do the top 20 Pharma use in drug discovery?
HTS is essential to lead generation. It gives R&D teams the speed and capacity to screen tens of thousands of compounds per day to find "hits" that can serve as the starting point for drug development.
HTS can be employed in one of two ways, depending on a company's strategy. This has been reflected in an active debate over the last years around success rates of screening tactics between target-based HTS versus phenotypic screening. This survey reported the preferred approach by the top 20 Pharma participating.
74% of those surveyed reported using target-based screening. A deeper scientific understanding of disease biology and mechanisms drives the selection of the target of interest. Once the specific target has been identified, various strategies are used to provide validation of the target which is then screened against a very large diverse compound library to generate hits. Recommendations for some aspects have been published, for example, AstraZeneca's '5R' framework (Morgan 2018).
26% of those surveyed reported using phenotypic screening. This approach is defined as mechanism agnostic; the starting points are the biological assays that use translational biomarkers as functional readouts to characterize the phenotype (Swinney 2020). It can be challenging, however, due to key bottlenecks in deconvolution to overcome the knowledge gap of the molecular drug target to provide desired safe clinical outcome. Often used as an orthogonal approach, as opposed to target-based screening, phenotypic screening can yield first-in-class drugs.

What is the drug discovery focus for the top 20 Pharma?
In trying to learn about the top 20 Pharma's strategies for identifying leads, Dr. Eckelt asked participants about the drug discovery divide between traditional small molecules and popular, potent biologics and was surprised by what he learned.
"Everybody these days is talking about biologics or therapeutic antibodies," said Dr. Eckelt. "The surprise was that small molecules are coming back into the early stages of drug discovery."
Responses showed evidence of a small molecule revitalization in the pre-clinical phase.
78% of the top 20 Pharma reported R&D of small molecules. These stable, simple compounds, used to treat various conditions, are easy to synthesize and cost-effective to test.
22% of the top 20 Pharma reported R&D of large molecules/biologics, many of which were under clinical evaluation. A more complex lead-generation approach, this class includes peptides, nucleic acids, and monoclonal antibody therapies.
Interestingly, those companies ranking 11th – 20th in R&D spending were more likely to report focusing on large molecules with a share of 34%. In most cases they operate with only one HTS site globally to serve both, small and large molecule/biologics discovery programs. Larger Pharma organizations maintain more than one R&D site globally and address the needs for large molecules/biologics by specialized departments. The top 1 to 10 Pharma participants dedicate over 80% of their activities to small molecule discovery.
Small molecules are the most well-established drug platform and continue to be attractive as therapeutic agents because of their multiple routes of administration, controlled dosing, stability, scale of making, and generally low cost of goods. On the other side, the lack of efficacy and/or safety leading Pharma to spend attention on improved pre-clinical models and early on toxicity studies.
Recent efforts in stem cell biology, precise genome editing and genomics in combination of novel innovative approaches like Proteolysis-targeting chimeras (PROTAC) held the promise of extending the druggable target space for novel drugs (Deshaies 2020, Morgan 2018).
Which therapeutic areas are the top 20 Pharma researching?
Dr. Eckelt spoke with participants during the first wave of COVID-19. At that time, it was clear to the participants that there would be a peak in virus research for the next two to three years because of the pandemic. Although companies expect to prioritize resources on pandemic topics, the market leaders foresee to continue with their established top therapeutic areas in drug discovery such as oncology, infectious disease, and CNS.
What targets are the top 20 Pharma selecting?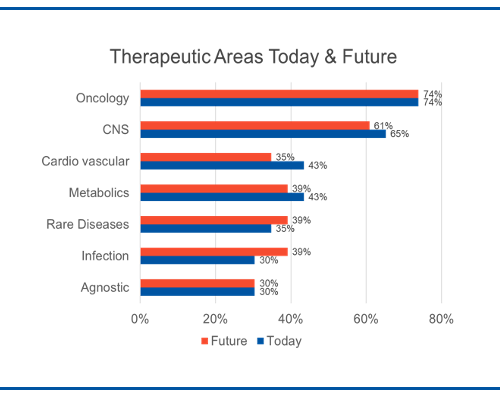 Selecting the target remains the most important and the most important investment decision according to AstraZeneca's '5R' framework which means identifying the right target, the right tissue, the right safety, the right patient, and the right commercial potential (Morgan 2018). A strong link between target and disease is required for the biological understanding. A project's therapeutic area can shape target selection, but the most common classes in use include:
Other enzymes (non-kinases, non-proteases)
Kinases (soluble enzyme kinases, receptor kinases)
GPCRs (G protein-coupled receptors)
Protein-to-protein interactions
In very rare cases, top 20 Pharma are focusing on a subset of special targets. In general, they are serving different therapeutic areas driven by the project requirements as an internal CRO and this involves a high and demanding degree of flexibility and knowledge.
What screening models are in use today? What will be used in the future?
Next to target selection, the screening model chosen has a significant impact on the lead quality. The screening models of tomorrow may be different than those in use today. Pharma reported plans to move away from simple models toward more complex ones (see below chart).
Simple vs. Complex Models:
Simple Models

Complex Models

Proteins in biochemical assays (purified or recombinant)
Overexpressed targets in simple cell lines like CHO or HEK as cell-based assay

Primary cells
Patient-derived cells
CRISPR libraries
Co-cultures
3-D cell culture
"Surprisingly, still many drug discovery programs rely on biochemical assays using purified and/or recombinant expressed target protein to identify interacting compounds. Alternatively, researchers establish overexpressed targets in simple cell lines to screen for hits. In an ideal world, there would be targets available for biochemical and cell-based assays for orthogonal approaches", according to Dr. Eckelt. "However, these rather simplified strategies are being made responsible for the low success rate in later clinical phases and causing frustration."

With an increased focus on robust target validation, Pharma is shifting towards complex models which are an accurate reflection of disease biology. "Researchers want to see an assay using liver cells or heart cells, or whatever the model should look like to be closer to the disease, closer to the biology itself," said Dr. Eckelt.
The hope is that more physiologically relevant assays using primary cells, co-cultures, 3-D cell systems or organoids will offer more predictive data and increase the likelihood of success later in the drug development process to find novel drugs. Interestingly, small animals well genetically characterized like the worm C. elegans or the fruit fly D. melanogaster do not play a role in Pharma's considerations.
According to Dr. Eckelt, the challenge will be implementing more complex models given the challenges in scalability due to material limitations, robustness by demonstrating reproducibility of findings, and costs.
And so, here comes the Pharma dilemma: How to meet the unmet medical need to provide high quality leads from complex models reflecting more disease relevance and higher likelihood to cure, while still staying in the budget framework?

This Pharma dilemma drives the need of innovation. He observed that now innovation for smarter solutions occur in collaborations with academia and biotechnology companies to allow Pharma to introduce therapeutic knowledge and funding into the process.
How many compounds do the top 20 Pharma screen per campaign?
Contrary to popular opinion, large screens were still in use by survey participants. The mean size of a full deck is 1.4M, with the cap at 4M compounds.
"I thought the trend was going toward smaller subsets," said Dr. Eckelt. "I learned people do subsets in screening, as the first step. If it looks promising, or they have covered a certain chemical diversity, they go to a full deck."
Subsets are commonly used for more complex screens and phenotypic approaches. These subsets, which range from 50-500K compounds, are based on the screening model, scalability, and costs. The frequency of screening had a wide range, based mainly on the individual company's discovery philosophy.
"Some Pharma screen less than ten times, while others screen more than 50 times a year," said Dr. Eckelt. "But almost all Pharma indicated an expected increase in screening activities over the upcoming years."
What HTS platforms do the top 20 Pharma use?
Pharma is running multiple platforms to maximize the likelihood for hit finding. This is a trend participants expect will continue while the complexity of screens with multiple parameters is increasing, driving the requirement for a broad set of skills and technologies. By combining different HTS platforms the researchers gain more insights and confidence for the decision-making process.

The most frequently used platforms today were predicted to decrease in popularity but not disappear altogether and expected even provide more insights in the future, including:
Enzymatic assays
Binding/immunoassays
Reporter gene assays
Second messenger assays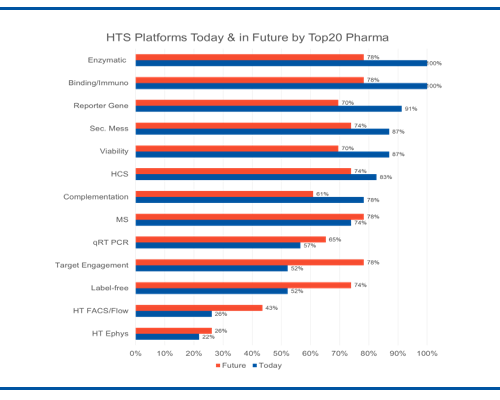 Most R&D sites act as an internal centralized CRO, receiving assays from different departments. Many participants indicated that the composition of platforms may change over years due to project requirements. Besides the broad platform offering a trend towards cellular target engagement (CETSA), Label-free and HT FACS/Flow for primary blood cells is observed.
Depending on the Pharma philosophy, some of these platforms are predominantly used for hit confirmation or secondary screening, e.g. Label-free techniques like surface plasmon resonance (SPR), and set up therefore at lower throughput in biophysical departments. Additional approaches beyond HTS have been surveyed and used in many cases as orthogonal technology for hit finding and characterization.
Often these technologies are conducted in non-HTS departments or outsourced to external CROs in case internal skill set and equipment is missing.
Virtual screening
DNA-encoded library screening
Fragment-based screening
Structure-based screening (NMR)
Proteolysis-targeting chimeras (PROTACs)/targeted protein degradation
Surprisingly, Dr. Eckelt learned that more than 70% of the companies he spoke with are already working on induced targeted protein degradation namely on PROTACs. Some participants even indicated that PROTAC is the next big thing and high investments to follow.
How does the top 20 Pharma select HTS platforms?
Which platform to pick, besides target selection and screening model, is a fundamental question for Pharma. Physiological relevance was rated as the most important criteria by nine out of ten participants, yet the definition for this requirement ranged from one company to the next.
Overall, it suggests a shift from simple to complex platforms for a better biological understanding of diseases. Respondents indicated that physiological relevance was needed to predict success for the later phases of drug discovery.
The physiologically relevant platforms of interest ranged from overexpressed targets in cell lines to complex disease models, with high variability from company to company. Based on previous notes for screening models, this seems like a conflicting statement. However, the research background may come into play here. In any case, this statement demonstrates the importance of physiological relevance independently from the exact definition.

The second most important factor influencing platform choice was assay robustness. Eighty-seven percent said robustness was their primary criterion. Given material limitations, assays must deliver replicable outcomes and findings, which can be monitored for performance and data analysis.
To no surprise, costs were also a factor for three out of four participants, given the pressure on limited budgets while also improving speed and efficiency. Interestingly, only one in two participants named sensitivity as a significant criterion in platform choice.
Is outsourcing to external CROs an option for R&D leaders?
A general trend observed in all regions is the increasing utilization of external CROs. In particular in COVID pandemic times, this service is being used intensively while Pharma labs are being closed. Currently, almost eighty percent of the participants favored this option whereas the remaining ones were having serious ongoing discussions. When asked why over sixty percent declared the lack of full-time employees as the reason number one followed by the lack of internal expertise with forty-eight percent. Surprisingly, the cost pressure was not regarded.
Outsourcing routine screens to global CROs in peak times or keeping the focus of internal expertise to demanding assays were given as explanation with seventy percent. Closing certain technology gaps was rated thirty-nine percent secondly. Some HTS leaders have completely outsourced the recombinant protein production.
What are the reasons for project failure?
It is a costly, frustrating experience when a pre-clinical project does not reach lead optimization. In the spirit of transparency, survey participants openly shared the reasons for project failure.
74% of projects did not advance due to target invalidation, which was associated with either a lack of confidence or invalidated scientific hypothesis. This is in line with previous observations (Morgan 2018)
65% of projects did not advance because no leads were identified
"The most common reasons for project failure show that selecting the right target remains the most important decision in drug discovery," said Dr. Eckelt.
Another reason for a project not moving forward was a shift in strategic focus by leadership with forty-eight percent given response. In spite of previous studies, safety was not regarded as the dominating reason for failure because many Pharma have established more Toxicity assays earlier in the process to gain confidence.

For data analysis, participants reported using commercial solutions such as Gene Data, Spotfire, and Abase. Still, ten out forty-nine respondents utilized home-made solutions for special purposes, mostly because this approach has been established over years and a lot of comparison data is available. Assay development was done on Graph Pad and Excel.
Adopting more sophisticated HTS platforms and models will require discovery teams to examine data analysis requirements. The survey identified several must-haves for performance: flexibility, ease of use, customization by integration of novel technologies, and the ability to handle big data and multi-parameter analysis in the cloud.
The next chapter in drug discovery
Going forward, top Pharma R&D teams plan to improve hit finding with novel technologies. There is a call for more physiologically relevant models that offer insight into the in vivo state to predict the likelihood of a compound's success. In this context, a shift to cellular target engagement has been discussed and will allow researchers to monitor if compounds bind to their intended target protein in living cells providing more confidence early in the process.
Newer and more complex screening models, like 3-D cells, co-cultures, CRISPR libraries, and microfluidics either as miniaturized format or as organ-on-a-chip, are expected to grow in popularity. Another promising route is cell painting necessitating high-content imaging and more powerful data analysis.
Data analysis technology added to workflow must accommodate increasingly large amounts of data. Seamless cloud-based data handling must be integrated with new hardware or software, without the need for extended training or customization.
Based on PerkinElmer's core competences in reagents, plate readers and high content instrumentation, liquid handling and automation combined with data handling and analysis, participants were asked where they would like to see future investments placed by PerkinElmer in order to address their needs and make their life easier.
In this context, the majority of responses, with almost eighty percent selected novel reagents panels like biomarkers, followed by novel technologies with seventy-four percent and next generation instruments with sixty-one percent indicating a request for microfluidics covering miniaturization and/or organ-on-a-chip, biophysical methods addressing Label-free and format-free imaging. It is expected from a complete solution provider like PerkinElmer to launch products and solutions which are validated and ready-to-go including seamless data handling.

"Researchers want to work with more patient-derived material, which is more limited materially," said Dr. Eckelt. "I see PerkinElmer as the most equipped supplier to partner with these teams to develop more sensitive instruments, sophisticated solutions, and seamless data analysis to achieve increased productivity and efficiency in the early discovery phase." And he received a lot of positive feedback from the participants in terms of their high willingness to collaborate with PerkinElmer. Pharma companies expressed that is the way to go for novel drug discovery strategies based on partners bringing in their core competencies.
---
Note: PerkinElmer thanks survey participants for their time and willingness to share information about their current approaches and future plans in this anonymized survey, which helps inform everyone working to bring new treatments to life through drug discovery.
Dr. Volker Eckelt has had work record in drug discovery of almost 20 years serving different roles in industry. As Senior Strategy leader for Discovery at PerkinElmer Life Sciences his main objective is to identify and create unmet, novel workflows as well as solutions for BioPharma customers globally since 2019. He joined PerkinElmer in 2011 starting as global Portfolio Director for Multimode Detection to drive the plate reader business (VICTOR Nivo, EnSight, EnVision) followed by the first strategic position in 2018 focusing on PerkinElmer's Discovery Reagents (Alpha, LANCE, DELFIA, Luminescene) and plate readers.
Prior to his engagement with PerkinElmer he was running the Corning Epic Application Center in France to establish and expanded Epic Label-free into the European market for 5 years. As program leader in R&D at CyBio (now Analytik Jena) he was involved in the Epic instrument as well as in CyBi-Lumax plate reader development after starting his career as scientist at CyBio.
Volker holds a Ph.D. from the University of Hamburg on oxidative stress in parasitic worm conducted at Bernard-Nocht-Institute for Tropical medicine, Hamburg.
Works Cited
Deshaies, R. J. 2020. Multispecific drugs herald a new era of biopharmaceutical innovation. Nature Vol 580, 329-338.
Matthews, H., Hanison, J., & Nirmalan, N. (2016). "Omics"-informed drug and biomarker discovery: opportunities, challenges, and future perspectives. Proteomes, 4(28). doi:10.3390/proteomes4030028
Morgan, P. et all (2018). Impact of a five-dimensional framework on R&D productivity at AstraZeneca. Nature Reviews Drug Discovery, Volume 17, March 2018, 167-181.
Wouters, O. J., McKee, M., & Luyten, J. (2020). Estimated research and development investment needed to bring a new medicine to market, 2009-2018. JAMA, 323(9), 844-853. doi:10.1001/jama.2020.1166
Swinney, D. and Lee, J. A. (2020). Recent advances in phenotypic drug discovery. F1000Research, https://doi.org/10.12688/f1000research.25813.1
Zdrazil, B., Richter, L., Brown, N., & Guha, R. (2020). Moving targets in drug discovery. Sci Reports, 10(1), 20213. Retrieved from https://doi.org/10.1038/s41598-020-77033-x
Top20 Pharma is defined according to EY Study "The largest pharmaceutical comps worldwide", 2020. The ranking chosen in this study is based on global R&D expenditure in 2019. Remark: Merck KGaA was set on position 20 due to prior studies (EvaluatePharma 2018/19).