Previous
Next
Today's labs are both scientific and commercial enterprises – and to compete and win, you need services that take your lab or business into consideration. So we take a consultative approach to understand your labs requirements, whether it is to manage the efficiency of your lab, to develop new assays or run clinical tests, our customized solutions ensure you get the most out of your lab.
A Comprehensive Suite of Services
See how PerkinElmer helped with Services needs
---
A profile of how one Big Pharma site is saving big dollars through a single-source provider of laboratory services.
Learn More
Increase the efficiency of your lab with a strategic partnership. Read our free whitepaper to learn how.
Learn more
Lab of the Future is Now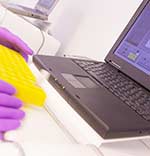 PerkinElmer OneSource professionals assess each lab individually and provide a tailor-made solution to help you achieve peak performance.
Learn More