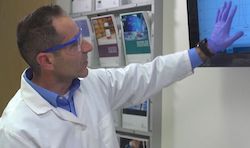 "Trail-blazing Technology to Help Advance Cancer Research"
Chady Stephan, Product Manager for Inorganic Solutions, PerkinElmer's Discovery & Analytical Solutions Business
"I think one of the keys to success within any company is not always adhering to the status quo, but instead asking ourselves how we can do things better. I personally have tried to practice and instill this mindset within my team." For Chady Stephan, product manager for inorganic solutions within PerkinElmer's Discovery & Analytical Solutions business, this spirit of innovation and collaboration is not just something he applies inside PerkinElmer. It has also helped him establish relationships with key customers, one in particular who is making great strides in researching cancer treatments.
In May 2016, during a visit to the National Institutes of Health in Washington D.C., Chady learned about a customer, Lauren Amable, Ph.D., Staff Scientist at the NIH's National Institute on Minority Health & Health Disparities, who had just purchased a PerkinElmer ICP-MS. During a meeting with her, Chady not only inquired into what type of work she used the instrument for, but also asked how she envisioned it meeting her needs moving forward. That question proved to be a pivotal moment.
Lauren explained that her wish – given her current research – was to have an instrument that would enable her to look at metal uptake in individual cells. This was because the most common chemotherapy drugs are platinum-based, and the efficacy of the drug depends on the intracellular concentration within individual cells. "At that time, there was no way for researchers to look at the individual metal content that relates to treatment efficacy, particularly identifying resistance cells," said Chady. The resistance cells are a small percentage of cells that don't uptake the drug very well, which in turn increases the patient's chances of having cancer reoccurrence. But Chady told Lauren, "I think there's a way…"
He then offered to spend a few days in the lab working with Lauren and taking the approach of applying a single particle ICP-MS to cells – something that had never been done before. Over the past year, Lauren has been presenting her work at key conferences, such as the Society of Toxicology (SOT) and the American Association of Cancer Research (AACR).
"A big part of my career at PerkinElmer has been looking at different ways of using mass spectrometry. In 2011, I started working on what is currently known as single particle ICP-MS, a technique that expands the use of mass spectrometry into the analysis of particles in a solution," Chady said. This request originated from a customer in the U.S. who was looking for a technology that enabled the detection of nanomaterials at trace levels in environmental matrices. Given Chady's background in nano, the inorganic product line leader at the time contacted him and asked if they had a solution. "In my spare time, I had actually been working on using the ICP-MS for something similar. Together with the R&D team, we were able to develop this technology and introduce it in 2013 as a unique add-on capability to PerkinElmer's ICP-MS platform."
In the eight years Chady has been with PerkinElmer, he has held a number of different roles, in addition to being recognized for his efforts. He first joined the Company as a product specialist supporting inorganic products, and then he moved into a global manager role for nanotechnology. In 2015, he won the PerkinElmer Chairman's Award for building the organization's nanotechnology business. Chady then went on to join the technical marketing team in which he lead a group of application chemists focused on industrial segments such as lubricants, polymers and plastics.
Whether gathering insights from a collaborator, or innovating a brand new offering and capability, Chady has been able to meet customers' unmet needs and make an incredible impact.