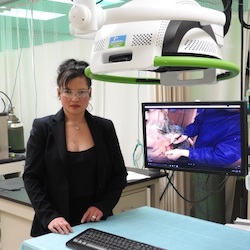 "Pushing Scientific Boundaries"
Kristine Vasquez, Senior Scientist, R&D, PerkinElmer
"For me, it all begins with a purpose. Every day, my goal is to make a difference in the lives of ordinary people through scientific research, and my job affords me that opportunity." Kristine Vasquez, Senior Scientist, R&D, is one of our passionate employees doing work to enhance the value we deliver to customers every day. The animal models she develops have advanced the quality of in vivo imaging through peer-reviewed publications and opened the doors for new noninvasive detection methods.
Kristine joined PerkinElmer over 10 years ago as a pharmacology researcher at our Hopkinton, Massachusetts site, determined to push the boundaries of translational research. Her animal models, which support demos and application development for instruments like our IVIS® Spectrum CT, FMT, and Solaris™, help produce datasets that assist pharmaceutical researchers and veterinarians performing image-guided cancer surgery. Her insights and collaborative efforts with software and hardware engineers also helped our Solaris™ Imaging System become the Silver Winner of R&D Magazine's Market Disruptor Product R&D 100 Special Recognition Award.
Developing next generation systems wasn't always part of Kristine's plan. It wasn't until being diagnosed with cancer as a student, participating in clinical trials, and finally ridding her body of the illness, did she realize that exploring new approaches to support therapeutics research was her destiny. "What inspires me to work in in vivo applied biology at PerkinElmer is my ability to truly innovate for better outcomes – from the development stage all the way to application," said Vasquez. She has had multiple customers visit her on-site to express appreciation for her work and share feedback on the development of new research models.
Lately, Kristine has been studying additional uses for our optical imaging agents and technology as well as fostering the development of new application areas such as liver toxicology. Last year, she and Dr. Jeffrey Peterson created in vivo experimental models that help researchers determine the biologic pathway changes that can occur in liver tissue damage. Their work was recently published in the Journal of Pharmacology and Experimental Therapeutics – taking the cover of the April 2017 issue. "The vision, consistency, and determination I developed when I first became a researcher have enabled me to reach this level of success in my career. I am encouraged every day by the customers, researchers, and patients who can benefit from my work," said Vasquez.
We look forward to future accomplishments by Kristine as she continues to make a difference for our customers across the globe.
Reference:
Vasquez K. and Peterson J. (April 2017). Early Detection of Acute Drug-Induced Liver Injury in Mice by Noninvasive Near-Infrared Fluorescence Imaging. Retrieved from http://jpet.aspetjournals.org/content/361/1/87