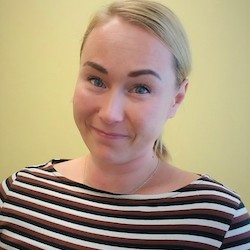 "Preparation Proves to be Essential Amid Global Pandemic"
Henna Järvinen, Director of Operations, PerkinElmer
Director of operations, Henna Järvinen has spent the past 18 years in a number of different manufacturing, operations and project roles at PerkinElmer. Throughout this time, she has grown professionally by taking on new responsibilities when offered the opportunity. The biggest step in her career came in the summer of 2018 when she left our Turku, Finland site where she had been overseeing the manufacturing of PerkinElmer's Diagnostics instruments and moved almost 4,000 miles (~6,400 km) across the world to our Hopkinton, Massachusetts facility. In her new role, she was now managing all Hopkinton site operations, including manufacturing of our JANUS® liquid handling workstations.
Over the next two years, Henna led efforts to expand manufacturing capabilities at the site through coaching her team, simplifying processes and looking for areas to increase efficiencies. She did this by aligning resources and refocusing operational goals, as well as working with the research and development group and the service team to initiate quality improvement projects for Hopkinton instruments.
Early in 2020, the coronavirus pandemic hit. Through conversations with her colleagues in Asia and working with suppliers in the region, Henna and her team began preparing should the virus spread around the globe. When it did, they were able to quickly respond, specifically with the manufacturing of PerkinElmer's JANUS liquid handling workstation. The instrument automates sample preparation, enabling labs to rapidly process samples at high volumes. It is traditionally a customized solution, built on each customer's unique needs, but demand increased exponentially as labs ramped up their COVID-19 testing efforts and with that, the Hopkinton team faced a challenge they'd never seen before. The work Henna's team had done over the past two years provided a strong foundation to answer the call to action, but they needed to do more.
In just two weeks, together with the Applied Genomics team and Hopkinton R&D, they created two new configurations of the JANUS customized for COVID-19 laboratory flow: the JANUS G3 Primary Sample Reformatter and the JANUS G3 qPCR Workstation. While using the advantage of the volume increase to reduce the manufacturing lead time per unit by 40-50%, additional keys to building these products so quickly were close collaboration with PerkinElmer's research and development group working on product sustaining activities and the creation of four additional production lines to build JANUS instruments. To help keep employees as safe as possible, Henna spread the lines across two floors to maintain social distancing. Other safety measures the site implemented were shutting down the facility to outside visitors very early on, requiring all employees to undergo a temperature check before entering the building, wearing masks on site, and increasing sanitation and cleaning throughout the day.
To Henna, just as important as quickly delivering the solutions our customers need, has been demonstrating the incredible impact her team's efforts are making to combat COVID-19: "The instruments we make here are truly helping in the fight against the virus, and I want everyone here in Hopkinton to be proud of that." Whether creating additional testing capacity in the United Kingdom or expanding availability of testing in California, PerkinElmer's impact has been felt across the globe. And while this is what makes Henna grateful to be with PerkinElmer, the most rewarding part of her job has been witnessing the resiliency of her colleagues and how they are willing and ready to help wherever and however they can: "It has been amazing to see how this same group that helped build our foundation for success over the last two years has grown in tremendous ways, enabling us to deliver critical solutions during a time when the world needs us the most."