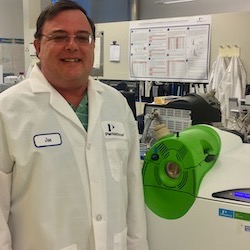 "Pioneering Diagnostics Solutions to Offer Babies a Healthier Start"
Joe Trometer, Principal Applications Scientist, Diagnostics Research and Development (R&D)Team
"The solutions that I create don't end up sitting on shelves, but rather in the hands of researchers working to ensure a healthy development for babies across the globe – that is why I enjoy coming to work every day," said Joe Trometer, principal applications scientist on the Diagnostics research and development (R&D)team. Based at PerkinElmer's Waltham site, for over thirty years, Joe has demonstrated his passion for organic chemistry by collaborating with his team to help develop lysosomal storage disorder (LSD) assays. LSD assays detect a number of rare inherited metabolic disorders, including Gaucher disease, Niemann-Pick A/B disease, Pompe disease, Krabbe disease, Fabry disease, and MPS I disease, all from a single dried blood spot. Customers rely on these critical newborn screening solutions to help with early detection to support better outcomes for families.
Joe is also responsible for assisting in the U.S. federal regulatory approval process. "There's no better feeling than discovering that an assay you worked on is officially authorized for distribution and use. Every time I reach these milestones, I am reminded of the impact that my team has on the world. Every step in our process helps bring customers closer to their next major discovery," he said. In addition, Joe leads PerkinElmer's Customer Contract Manufacturing Services (CCMS), which enables scientists to gain access to our advanced reagents for clinical research.
As a testament to his innovativeness at the Company, Joe has been awarded six U.S. patents bearing his name, including one entitled "Cyanine Dyes and Synthesis Methods Thereof", which are used in life sciences for labeling DNA and proteins. He has also co-authored several peer-reviewed publications, most notably a study on the efficacy of using tandem mass spectrometry for newborn screening of LSDs, featured in the National Center for Biotechnology Information. "Regardless of how far you advance in your career, there is always someone out there who can help you achieve more. That's why the one thing that has propelled me to this stage in my life is being unafraid to ask questions and learn from others," he said.
Upon graduating from his PhD program at Dartmouth College, Joe originally sought opportunities for professorship. "I had such a deep passion for the intricacies of organic chemistry that I honestly found it hard to keep to myself," said Joe. After teaching for a few years, he switched gears in hopes of fulfilling a role that would have a larger impact on the world. "What appealed most to me about PerkinElmer was its mission to improve life and the world around us. At that point in my career, I wanted to be part of something greater than myself – that is what motivated me to join the Company," said Joe.
Today, Joe continues to scan the horizon for emerging assay applications that could benefit more children and help our customers achieve even greater scientific breakthroughs. His approach to innovating next-generation solutions over the last three decades has made him a valued member of PerkinElmer, and we look forward to seeing how his contributions continue to help babies gain a healthier start at life.