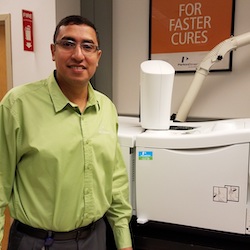 "Leading Next-Generation Technology from Concept to Launch"
Manny Farag, Gas Chromatography (GC) Product Manager, PerkinElmer
"When I was a chemist, I always wondered how the products I used for my experiments could be better. I suppose that inquisitive spirit is what brought me to PerkinElmer," said Manny Farag, Gas Chromatography (GC) product manager. Working out of the Company's Shelton, CT site, which manufactures life sciences research instruments for environmental and industrial applications, Manny leverages past experiences using the first-generation Autosystem® GC to lead his team that develops new models. The recently launched Clarus® 590 and 690 GC products are the latest innovations coming from his team of talented engineers and product experts.
Ever since joining the Company six years ago, Manny has played a pivotal role in helping see an array of PerkinElmer's GC products from concept to launch, including the TurboMatrix™ Thermal Desorber and Clarus SQ8MS. "I went from "the bench" where I used these products to managing how and where to upgrade their features so they could remain relevant in this competitive industry," said Manny.
"Honestly, what I enjoy most about my job is the opportunity to be innovative in my problem solving. Sometimes when engineers hit a road block, a project can be stalled for weeks. I try to be methodical in the way I approach these situations by taking the time to listen to their ideas, test the most feasible, and often combine them to find the best resolution," he said.
"Staying close to our customers and continuously monitoring the success of our technology is what keeps me satisfied as a product manager. There's never a day I don't think about how my team truly helps accelerate scientific research," he said. Now that the new Clarus GC instruments have launched, Manny is looking forward to gathering data from customers and cascading insights to his team for the next models to hit the market. Thanks to employees like Manny, PerkinElmer is well positioned to continue driving innovation across the industry.