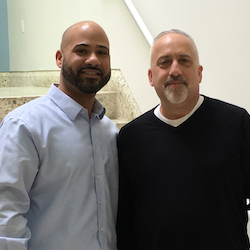 "Leading New Solutions for Better Customer Service…and a Healthier Environment"
Micheal Davis, Remote Diagnostics Manager, and David Mendillo, Technical Support Manager
Imagine being a service manager juggling the needs of over 350 employees and thousands of customers, all while managing service requests on a standard reporting system. This was the case for Micheal Davis, Remote Diagnostics Manager, and David Mendillo, Technical Support Manager, who together, discovered and implemented a new way to innovate PerkinElmer's remote support capabilities by offering customers an interactive tool for first-response reporting.
The opportunity to enhance the customer experience first presented itself in 2010 when the remote diagnostics team received feedback from customers requesting a more convenient way to interact with support technicians while troubleshooting. Micheal and David considered many ideas but ultimately chose the automated support tool LogMeIn, which is built to help technicians service customers via phone or webcam.
Introducing the tool to customers and the remote diagnostics team was not as easy as they had expected. Micheal and David faced numerous challenges related to how their colleagues and global customer base understood the potential impact LogMeIn would have on the way we deliver service as well the environmental benefits. "Diligence and constant communication were key components in getting our employees and customers on board with the idea," said Davis. "Being professional and cognizant of everyone's needs helped David and me obtain buy-in from the team and therefore streamline the implementation process."
After one year of using the tool, Micheal and David noted a decrease in customer downtime as well as an increase in remote diagnosis rates. "We were elated to hear the positive feedback from our customers and pleased with the way our team handled the transition," said Mendillo. "My advice for managers embarking on a similar project is to never underestimate your team and customers' willingness to adapt. Always remain tenacious, proactive and creative in your approach."
Not only did the new system enhance the customer experience, but it also contributed to PerkinElmer's environmental efforts. In 2016 alone, LogMeIn helped reduce carbon dioxide emissions by over five metric tons.
Thanks to their willingness to take an innovative approach in how we deliver value to our customers, Micheal, David, and the remote diagnostics team have demonstrated the incredible impact that can be made when we focus on putting customers first.