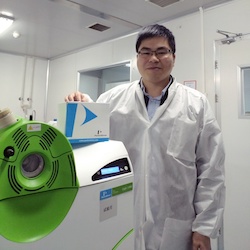 "Illuminating Opportunities to Enhance Our Mass Spectrometry Solutions"
Kuan Jiang, Mass Spectrometry Scientist from Taicang, China
"It took me fifteen hours to travel to the office but only fifteen minutes to feel at home with the team," said Kuan Jiang, mass spectrometry scientist from Taicang, China, and the first participant in PerkinElmer's 2018 Visiting Researcher Program. Designed to stimulate new ideas and promote global collaboration, the program provides research and development (R&D) employees the opportunity to work alongside colleagues at other locations on special assignments. Kuan recently completed his experience with the Diagnostics R&D team in Waltham, Massachusetts, assisting with the development of new assays for PerkinElmer's newborn screening kits.
As a mass spectrometry chemist, Kuan is responsible for characterizing biomarkers for various diseases and using his findings and insights to refine diagnostic assays. Over the course of his five-week program, he gained valuable training techniques to share with his team in Taicang related to how to transfer ideas for diagnostic assays into production. "What excited me most about participating in the program was having the chance to collaborate with people who have varying skill sets but share one common goal – to improve lives for the better," said Kuan.
Aside from his work as a participant in the program and the progress he has made developing new applications for newborn screening reagents in Taicang, Kuan is proud of the strong relationships he has forged with the global R&D team since joining the Company. "As a relatively new scientist, I understood that I had a lot to learn when I came to PerkinElmer. Knowledge-sharing and constructive feedback are normal occurrences here, so I'm grateful for my experience as an employee because it enables me to grow immensely as a professional," said Kuan.
Prior to joining PerkinElmer in 2017, Kuan was a PhD student with goals to collaborate with renowned researchers in the analytical biochemistry field and make significant contributions to science. As a student, he co-authored eight peer-reviewed articles, including a study focused on the efficacy of using mass spectrometry to determine patterns of protein expression for biochemical analyses. "PerkinElmer is a global leader in newborn screening and manufactures some of the world's best spectrometric solutions, so upon completion of my studies, it was clear where I needed to begin my career. I was determined to embark on the journey to help give babies around the world a healthier start at life," said Kuan.
Looking ahead, Kuan plans to continue channeling his passion for mass spectrometry toward the discovery of emerging assay applications that will enable better outcomes for babies. He is just one of many employees leveraging his talents to help PerkinElmer drive unmatched customer value across the globe.