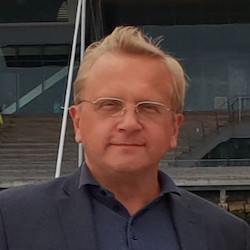 "Harnessing the Power of Artificial Intelligence Through Collaboration"
Kaupo Palo, Manager, Software Development at PerkinElmer's site in Tallinn, Estonia
In the early 2000's, trends were changing, and we had to create more complex systems, turning from statistical analysis to image analysis. Now, we are doing the same thing and integrating new technology to deliver analyses to users in the simplest way. Artificial intelligence has the ability to improve techniques, make systems easier to use, speed up processes and enable new capabilities that were never before possible," said Kaupo Palo, manager, software development, at PerkinElmer's site in Tallinn, Estonia.
Kaupo has been pioneering innovative solutions for PerkinElmer for over 10 years and throughout the past 17 years, he has been the author or co-author of 17 registered patents.
As the leader of a team of six physicists, Kaupo creates and works on software for imaging analysis, specifically high content screening and microscopic imaging. Throughout his tenure as a software developer in an industry that is undergoing tremendous disruption, Kaupo has worked tirelessly to remain ahead of technology and innovate to keep up with the pace of change happening in the world around him. This means adopting to new technologies and finding ways to incorporate these advancements into PerkinElmer's solutions. For example, Kaupo wanted to find a way to bypass the weaknesses of classical imaging algorithms. Although these classical algorithms work theoretically, they are fragile against many aspects of real life, and Kaupo saw an opportunity to incorporate artificial intelligence to minimize error and eliminate the complexities that are experienced with traditional methods.
Upon visiting our Waterloo, Ontario site for a workshop based around artificial intelligence, Kaupo identified a tremendous opportunity to collaborate with the team there around the integration of artificial intelligence into traditional imaging algorithms. "I saw a great environment for innovation with my colleagues across the sea in Canada and knew that I wanted to take advantage of this to help elevate PerkinElmer's imaging capabilities to the next level."
After spending several subsequent months communicating with the team in Waterloo and sharing ideas, Kaupo traveled across the world to spend five weeks at the site through PerkinElmer's Visiting Researcher Program. Over the course of his visit, Kaupo worked with fellow employees, along with two Co-Op students from the University of Waterloo, to discover the potential of AI for PerkinElmer's products. Kaupo's experience with the Waterloo team has opened the next chapter in image construction through AI which will allow customers to develop high content images from a lower quality measurement. With hopes of further incorporating this technology to maximize the ease of use for our customers, Kaupo is continuing to find opportunities to integrate AI across imaging solutions.
Since his return to Estonia, Kaupo has remained in contact with his colleagues and friends in Waterloo as they continue to perfect their algorithms and integrate new methods into our solutions. We are excited to see how Kaupo will help develop novel solutions that help maximize the impact PerkinElmer has on our customers around the world.