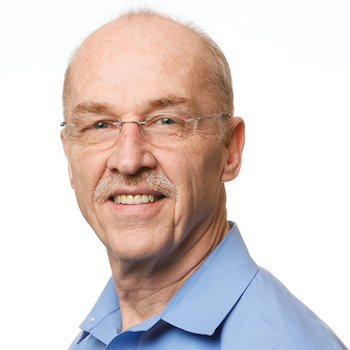 "Fostering Relationships to Enhance STEM Education"
Bob Hope, Northeast District Sales Manager for PerkinElmer's Discovery & Analytical Solutions business
"PerkinElmer has seen eight decades of innovation and I feel proud to have contributed to over four of them. The only thing that amazes me more is that I'm still afforded opportunities to sharpen my skills and help increase the impact we make on the world," said Bob Hope, Northeast district sales manager for PerkinElmer's Discovery & Analytical Solutions business. Over the course of his career, Bob has leveraged his technical background in service management to help his sales colleagues attract and sustain customers in the biomedical, industrial, environmental and pharmaceutical industries. During this time, he's found another way to help drive our mission, this time in his local community.
In 2012, Bob initiated a partnership with the Students 2 Science (S2S) organization, a New Jersey-based program that aims to inspire, motivate, and educate students to pursue careers in science, technology, engineering and math (STEM). Teams of students have the opportunity to work collaboratively with scientific professionals who serve as role models, to solve real life problems, while being introduced to a wide variety of STEM career opportunities. "The founder of S2S was a previous customer of ours who later told me about the program he was building to help stimulate future scientists in underprivileged areas. He explained how support from PerkinElmer could really help the cause," said Bob. In a matter of months, and with the help of PerkinElmer's local service team, Bob was able to provide some of the instrumentation in the S2S's laboratories with both gas and liquid chromatographs, infrared spectrometers, and numerous UV-Vis instruments. "Throughout the year, service help by maintaining the instrumentation, while both sales and service also participate during the student sessions in some of the fun experiments that they conduct. Helping these students understand that they can achieve their dreams is truly rewarding. I believe that paying it forward and making a difference in the community is the least we can do," he said.
Upon graduating from DeVry University in 1975, Bob joined PerkinElmer as a service technician, eager to apply his new skill set. "In hindsight, my experience in service was invaluable to my career because it taught me how to understand customer issues, identify scalable solutions, and communicate those needs to my colleagues, such as the service engineers," said Bob. Looking to transition to a more front-end, customer-facing role, Bob joined the sales team where he could personally interface with the researchers who regularly used the instruments he would troubleshoot every day.
Years later, as a testament to his tenacity and technical expertise, Bob was promoted to a management role, where he could exercise his passion for connecting people with the best solutions to solve their most critical challenges. "Today, I view sales as an extension of service. It is my responsibility to meet customer needs by presenting them with the right instrumentation. It's the best puzzle to solve because it's such a perpetual challenge," said Bob.
In the future, Bob looks forward to identifying new, and cultivating existing customer relationships for the DAS business, as well as expanding PerkinElmer's involvement with S2S. Thanks to employees like him, PerkinElmer is able to continue innovating alongside customers to ultimately improve lives and the world around us.