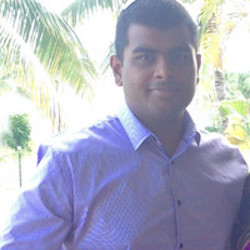 "Following a Dream to Make a Difference"
Devendran Nadan, New South Wales-Based Field Service Engineer, PerkinElmer
New South Wales-based field service engineer, Devendran Nadan first became familiar with PerkinElmer as an undergraduate student at the University of the South Pacific in Fiji while pursuing a bachelor's degree in biochemistry. During his studies, Devendran had access to PerkinElmer instruments in the university labs, including chromatography and spectroscopy equipment which he used to conduct his research. While he became fascinated by the solutions themselves, what really made an impact on Devendran was the relationship that he developed with Peter Dean, a now-retired PerkinElmer service engineer. Peter visited the lab regularly to perform routine instrument maintenance, provide trainings to the students and staff, and answer any questions. As he continued to work with Peter, Devendran became increasingly curious about the company behind the technology he was using and started researching PerkinElmer further. He was particularly captivated by the organization's rich history of innovation and told his mother, "I'm going to work for that company one day."
After graduation, Devendran's interest for innovative solutions only grew. He accepted a position at a pharmaceutical company in Fiji where he worked servicing, maintaining and troubleshooting instruments. He was especially excited that the company had a  PerkinElmer spectrometer in its lab, not only because it was familiar to him, but also because it meant that Peter, the same service engineer who Devendran had worked with in college, would be supporting him in his new role. Over the coming years, Peter would become a mentor to Devendran, teaching him new techniques in the lab and helping him develop and fine-tune his skills. During one visit, Peter told Devendran that he would make an excellent PerkinElmer service engineer, to which Devendran replied, "Give me the opportunity and I will prove myself." 
Just over three years later, Devendran was named the 2019 "Australian Employee of the Year" by his colleagues at PerkinElmer for his unwavering commitment to his customers, colleagues and the Company. In his role as a field service engineer, Devendran works closely with a variety of customers, including government institutions, universities and large corporations, supporting them with their analytical testing needs. He also provides insights on chemical, environmental, food and pharmaceutical testing methods and presents solutions that will help them achieve their research and commercial objectives. Always ready to go the extra mile, Devendran works intimately with each of his customers, tailoring his approach to provide fit-for-purpose solutions to meet their distinct needs. In addition, Devendran credits collaborating with, and learning from, his fellow service engineers with helping him provide the highest quality service to his customers, ultimately enhancing and maintaining the productivity of their labs. This is something he takes great pride in, "My happiness lies in the happiness of the customer. I cannot leave until I know they are completely satisfied."
For Devendran, the most rewarding part of his job is knowing that he did everything possible to help his customers achieve success. In his eyes, receiving the "Australian Employee of the Year" award symbolizes years of hard work and dedication that were made possible through the support of his colleagues, his manager and a mentor that gave him the opportunity to prove himself years ago.