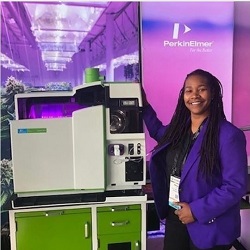 "Finding a Niche in a Unique Space"
Shianna Hines, Senior Product Specialist
Senior product specialist, Shianna Hines always knew that she wanted a career in science. She just wasn't sure what kind of science. After graduating from Arizona State University with a B.A. in biochemistry, she held quality assurance and quality control positions within a variety of labs -everything from dairy to environmental, trying to find her niche. Upon joining PerkinElmer as an application scientist in 2018, Shianna had the opportunity to work in diverse industries on our applied markets team, helping environmental, industrial and pharmaceutical labs better understand the type and levels of heavy metals in the samples they analyzed. She loved the complexity of heavy metal testing and educating her customers on the science behind it, but also showing them how to use the instrumentation and working directly with them to understand their pain points and then identify how to help them achieve their goals.
As the cannabis market became more regulated in the United States, Shianna expressed an interest to specialize in this field. She wanted to focus more closely on the science of cannabis and saw an opportunity to be proactive in this brand-new field of heavy metal testing. Shianna immediately got to work helping independent labs and government organizations. A key part of her role is developing innovative ways to standardize analytical processes and help ensure safety in all cannabis products. Having the freedom to be creative in doing this is important to Shianna, and she finds it is essential to her ability to find novel solutions for her customers: "At PerkinElmer, we give employees the room to be inventive and do things differently than they may have been done before. I have the tools, resources and support to pursue my ideas and research that will help build a level of standardization to keep consumers safe."
While Shianna works primarily with customers in the United States, she prides herself on being an advocate for cannabis science in areas where it is not yet widely accepted, "at PerkinElmer, we push for the advancement of science through being a trusted advisor." This means that many times, Shianna is working closely with decision makers within various governments and regulatory agencies who are looking to adopt cannabis in regulated environments. She helps these agencies develop standard operating procedures for heavy metal testing and supports them every step of the way to ensure that they can produce accurate, quality data on a daily basis.
Shianna has recently started to expand her customer base beyond just government and regulatory agencies. To get to the "root" of the process, she is now working with farmers, harvesters and even fertilizer and water producers to help ensure safety both earlier on in, and throughout, the entire growing operation. In addition, prior to specializing in cannabis, Shianna had investigated drug uptake for patients undergoing chemotherapy, researching nanotechnology and dispersal methods. In learning more about cannabis, she realized that the homeopathic remedies used for chemotherapy employed a lot of the same instrumentation as cannabis, just in different ways. This showed her that there was an opportunity to leverage cannabis as an alternative to many opioids. For Shianna, the most rewarding part of her job is knowing that she helps ensure the safety of products that provide so much relief to patients that they otherwise could not find. While she is excited about advancing her own knowledge moving forward, Shianna is just as eager to continue educating others about the benefits and science of cannabis, and how it can be used safely. She is committed to expanding her impact in such an innovative field and is grateful that because of her love of science, she was able to find her niche and can now be a trusted advisor for customers around the world.