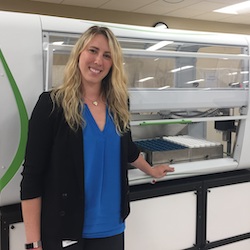 "Driving Customer Value through Customized Solutions"
Rachel Adomat, System Applications Integrator, PerkinElmer
"There is nothing cookie cutter about my job. I'm never stuck doing routine tasks," said Rachel Adomat, system applications integrator at PerkinElmer's Hopkinton, Massachusetts site, an R&D and manufacturing hub for life sciences and diagnostics solutions. Since joining PerkinElmer over two years ago, Rachel has leveraged her skills in engineering and automation to customize applications for customers. As a member of the Integrated Systems Group that supports all of PerkinElmer's custom liquid handling solutions, she specializes in the JANUS® G3 Workstations, which offer high content screening for liquid handling.
"I'm responsible for determining if various functionalities of different instruments can be combined to help meet the customer's throughput needs," she said. Rachel plays a pivotal role in satisfying customers by designing product applications that seamlessly integrate with their technologies. "It's always so gratifying to hear how customers benefit from the support I provide," said Rachel. From writing protocol templates to creating integration documents, Rachel goes above and beyond to ensure that customers are prepared to use our solutions to accelerate their science.
Last year, Rachel traveled to our Hamburg, Germany site, which manufactures detection instruments, as a participant in the Global Operations Leadership Development (GOLD) program which is designed to foster knowledge sharing through cross-site collaboration. Rachel partnered with the Automation Robotic Systems group, with the goal to create a link between two automated robotic systems teams to drive consistent customer support. "I love the fact that this job keeps me on my toes, and that I always feel like I'm making an impact. What I enjoyed most about the program was the chance to not only learn new software, but also absorb best practices that I could share with my team back in Hopkinton," she said.
Rachel attributes much of her growth as an engineer to her team in Hopkinton. "We all have very different skill sets that come together to function as a well-oiled machine." Growing up as an identical twin may also have played a part in Rachel's appreciation for teamwork. "Over the years, my team has been instrumental in developing PerkinElmer's first positive pressure system using the JANUS MDT head, helping launch the chemagic™ Prime instrument for nucleic acid extraction, and providing customers with comprehensive applications for their automation needs," said Rachel.
Looking ahead, Rachel is excited to delve into a new project related to using our chemagic 360 instrument, specifically for companies performing genetic testing and analyses. Thanks to employees like Rachel, PerkinElmer is able to continue to provide significant value to customers.