Combining a Passion for Education and Technology to Make an Impact in Local Communities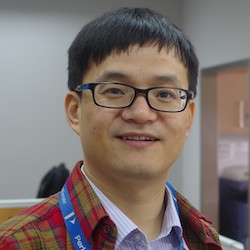 "Combining a Passion for Education and Technology to Make an Impact in Local Communities"
Candem Chen, IT infrastructure Manager at PerkinElmer
Candem Chen joined PerkinElmer in 2010 as an IT infrastructure manager at PerkinElmer's Taicang office where he oversees all of the logistics and requests from the site's employees. As part of his role, Candem is also responsible for evaluating which computers are no longer needed and developing a plan to take care of them. As he has always had a passion for giving back to his community, and knowing that in China, more than 50 million children do not have access to computers, Candem came up with the idea to create a computer recycling program that would also educate children. He chose to partner with an organization called NETSPRING.
Together with his colleagues, Candem began visiting local elementary schools in the Taicang, Jiangsu Province and other rural areas around the country to evaluate the state of their computer education programs. Candem found that many schools lacked the necessary hardware, teaching materials and supplies to provide students with a comprehensive education and prepare them for their futures. Upon completing his investigation, Candem officially inaugurated the Green Classroom Program.
Over the past nine years, he and fellow PerkinElmer employees have established seven Green Classrooms throughout China and have evolved the program from one of simple hardware donation to a comprehensive network that includes a large volunteer base. Every year, a group of PerkinElmer employees devotes two days at each of the Green Classrooms to spend time with and educate the children, provide guidance for the teachers, and administer necessary repairs or updates on the donated computers. The classrooms not only help the students, but also provide teachers with the resources to develop their lesson plans, as Candem and his team take the time to coach them on best practices and help them navigate the software.
Since the start of the program, Candem and the PerkinElmer team have restored, regenerated, and donated over 180 computers and laptops to benefit five schools in the region. This has enabled more than 4,000 children to expand their education through 60 hours of computer classes each semester, and has instilled a new appreciation for environmental sustainability among the students.
The evolution of the Green Classroom program is something that Candem is proud of, "Being a part of this program and watching the children learn makes me very happy. I have worked with my friends and colleagues over the years to continue to expand this program and it makes me proud to work for an organization that supports an initiative like this." In the future, Candem hopes to continue to expand the Green Classroom program to help children in other areas of China.