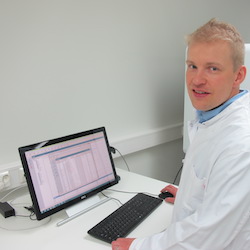 "Collaborating across the "Pond" to Advance Our Solutions"
Marko Ahlas, R&D Chemist from Turku, Finland
"3,853 miles – that's how far I traveled for an opportunity of a lifetime," said Marko Ahlas, R&D Chemist from Turku, Finland, and the first participant in PerkinElmer's Visiting Researcher Program. The program was born out of an internal innovation challenge for R&D employees, which was designed to stimulate new ideas and promote collaboration across PerkinElmer. It offers scientists the opportunity to research alongside fellow employees at other sites on specialized projects. With the full support of business leadership and Marko's manager, Marko was nominated to assist the Diagnostics R&D team in Waltham, Massachusetts with its work on mass spectrometry and newborn screening kits.
During his four-week program, Marko played a pivotal role in refining assays and implementing hardware enhancements for one of our detection instruments. He also helped strengthen relationships with PerkinElmer's R&D scientists in Canada who perform software tests on the instrument. "Assimilating into the new team was easy because the passion that researchers have at PerkinElmer extends far beyond natural borders. The Company has some of the best detection solutions in the world, and being in the position to augment [our capabilities], and in turn help screen more babies, is invaluable," said Marko.
Prior to joining Diagnostics R&D in 2014, Marko was part of a customer support team for five years – an experience to which he attributes much of his recent success. "When part of a customer support team, you have the unique opportunity to identify and communicate improvement areas to developers behind-the-scenes. Now that I'm in R&D, I can be the voice of the customer in the lab during the development process because I'm aware of how they interact with our products. It is this advantage that has enabled me to grow in my position and advance my career at PerkinElmer," said Marko.
Marko's contributions to and his achievements as a result of the Visiting Researcher Program have set the bar high for those participating in future assignments. "I encourage other employees nominated for this program to be open-minded and embrace opportunities to be collaborative," said Marko. "Insights aren't always sparked behind the walls of the lab."
Moving ahead, Marko plans to focus his efforts on developing advanced kits for newborn screening. We look forward to seeing how his contributions will continue to positively impact current and future customers, ultimately helping babies get a better start at life.