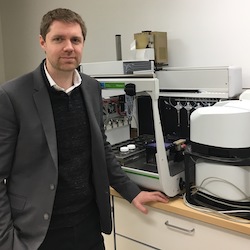 "Bringing a Passion to Infrared Detection"
Rob Packer, Global Infrared (IR) Portfolio Director, PerkinElmer
"Each year that I've worked at PerkinElmer has widened my scope of specialties and helped propel my professional growth," said Rob Packer, global infrared (IR) portfolio director. Based at PerkinElmer's Shelton, CT site, which manufactures analytical instruments for the pharmaceutical, food and industrial markets, Rob leverages his expertise in analytical chemistry to assist his colleagues in innovating advanced solutions that drive greater customer value.
Since joining PerkinElmer in 2008 as a recent PhD graduate, Rob has fulfilled a number of roles spanning the scope of product management and strategic marketing. "What I've enjoyed most about working at PerkinElmer is having my unique perspective heard and valued when the Company is considering ways to further penetrate key markets, such as food and pharmaceutical research," he said.
When he isn't managing the infrared business, Rob is participating in industry consortiums to personally meet customers, learning the greatest challenges they face in the lab and how they're using PerkinElmer's solutions. These insights enable him to propose both concepts for new products as well as other ways PerkinElmer can build out its analytical instruments portfolio to better meet the evolving needs of customers. "I love that PerkinElmer embraces my desire to pinpoint areas of opportunity and discover solutions that can both grow the business and drive greater customer value," said Rob.
A few years ago, for example, Rob highlighted that customers looking to test food samples for pesticides and aflatoxins needed an efficient liquid chromatography mass spec solution to keep up with demand in their labs. Rob helped advise PerkinElmer on the opportunity to fill this void in the industry by proposing a new addition to the Company's portfolio, which eventually became PerkinElmer's QSight™ Triple Quad LC/MS/MS technology. "The customer feedback following the launch of this product was incredibly positive. They were pleased to learn that this offering would enable them to gain faster critical insights," said Rob.
In 2016, Rob illuminated the potential for the Company to strengthen its offerings targeted towards the global food safety and quality market through the acquisitions of Perten Instruments, Delta Instruments and Bioo Scientific. "I am incredibly proud of these new additions to PerkinElmer's portfolio, enabling us to offer analysis of grain and dairy nutritional components and detection of adulterants," said Rob. And in 2017, he played an integral role in forming PerkinElmer's partnership with TeakOrigin, a company that integrates technology and data platforms to decode and demystify food. The purpose of this collaboration is to develop next-generation technology that will be used to analyze a number of food types for authenticity and freshness. This strategic venture will help PerkinElmer amplify its impact on bringing greater transparency to the food industry.
On the horizon are several projects Rob is excited to complete this year, including the development of new IR product lines for researchers in pharmaceutical and industrial R&D, as well as environmental testing labs looking to ensure they are compliant with increasingly stringent industry regulations. Thanks to proactive, passionate, and collaborative employees like Rob, PerkinElmer is able to provide innovative solutions to customers working towards a healthier and safer world.