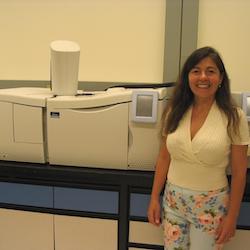 "Advancing Environmental Science Above and Beyond"
Lee Marotta, Senior Field Application Scientist, PerkinElmer
"What I enjoy most about my job is that it pulls me away from the bench and encourages me to learn the intricacies of our customers' needs and requirements. Every scientist knows that solutions don't come easy, but they're certainly worth the chase," said Lee Marotta, senior field application scientist. Since joining PerkinElmer over 25 years ago, Lee has helped the Company establish a fruitful relationship with the Environmental Protection Agency (EPA) by assisting them in optimizing methods and solutions using our TurboMatrix™ Automated Thermal Desorber (ATD) technology, which is widely considered the "gold standard" in the industry. The EPA uses the instrument to standardize many of its air monitoring applications, such as EPA methods TO-17 and 325, designed to regulate emissions of hazardous air pollutants across the country. Today, Lee's skills and passion for environmental science continues to fuel new innovations being adopted by customers around the world. "When customers need to refine their approach to operating in a sustainable society, they employ solutions that I have the pleasure of working on," said Lee.
As an applications scientist, she is responsible for answering customer calls when technical inquiries are more complex or unique. "Sometimes when customer issues involve lab work, I go as far as testing samples or a specific application to ensure they're left satisfied. Going the extra mile isn't just in my job description, it's in my DNA," she said.
Aside from her work on air, Lee has also enhanced several water and soil methods utilizing PerkinElmer's Clarus® SQ8 GCMS to measure toxic compounds in environmental and industrial samples. "Being innovative in my job is second nature because it requires a lot of critical thinking, scientific expertise, and customer care. I'm constantly discovering ways to make methods easier and higher performing for the industry," she said. Because of Lee's reputation, customers truly value her insight and trust her judgement as they work toward scientific breakthroughs together.
"It's very humbling to learn that customers can improve their science thanks to the work I've done," she said. This year, Lee is looking forward to collaborating with the state of Maryland on real soil vapor intrusion problems proving our solutions protect human health. She also plans to develop two new scientific methods for researchers in the petroleum industry. Lee's approach to solving unique challenges over the last two decades has made her a valued member of PerkinElmer, and we look forward to seeing how her contributions continue to help improve the environment.