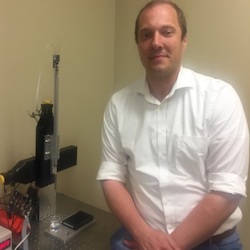 "Advancing Automation to Enhance the Customer Experience"
Christoph Klaunick, R&D Systems Engineer for Automated Liquid Handling, PerkinElmer
"Developing next-generation systems requires a lot of trial and error – that's my favorite part about it," said Christoph Klaunick, R&D systems engineer for automated liquid handling. Working out of PerkinElmer's Hamburg, Germany site, which develops a variety of detection technologies, Christoph applies his skills in microfluidics to innovate mechanical designs for our new products, improving usability and thus, productivity, for customers studying complex diseases.
Since Christoph joined PerkinElmer six years ago, his role has spanned the scope of quality and program management, leading initiatives that have improved processes, communication, design, and efficiencies of our detection instruments. "I have the opportunity to interface with engineers across the globe, from software to application development, with a goal to improve our design systems," said Christoph.
Christoph recently completed his first phase of our Visiting Researcher Program, where he traveled to PerkinElmer's Hopkinton, Massachusetts, Innovation Center of Excellence to assist the R&D team with their work on robotic pipetting features for detection instruments. "What excited me most about the program was the chance to create technical solutions and collaborate with employees across business functions every day," said Christoph. With his affinity for hands-on work, Christoph felt right at home among the Hopkinton R&D team who share the same level of passion for engineering. "On the first day of the program, my supervisor dropped a three-foot long assembly structure on my desk and challenged me to discover the problem with it. This was the perfect way to introduce me to my assignment for the next four weeks," he said.
Christoph is excited to play an instrumental role in forging stronger relationships between the Hamburg and Hopkinton R&D teams. "The distance between us is miniscule compared to the potential we have as one unit to build cutting-edge solutions for our customers. Transferring knowledge from the program to colleagues in Hamburg will undoubtedly help foster greater results than before," said Christoph.
Through his work, Christoph has added tremendous value to our R&D teams and ultimately to the solutions we provide customers across the globe. "What motivates me at PerkinElmer every day is the opportunity to collaborate with like-minded colleagues on problems no one else can solve. To be the first to think of a new design or way of processing gives me a good feeling," said Christoph. When he returns to Hopkinton this fall to complete the second phase of his program, Christoph will focus on building and testing applications for the robotic pipette. Christoph's story is just one of the many told by our dedicated team of employees focused on advancing our technologies to improve the customer experience.