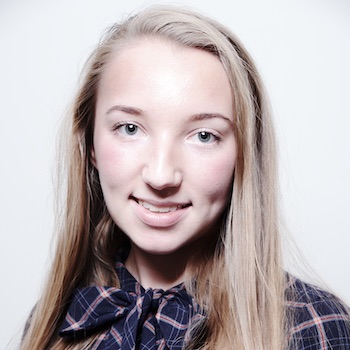 "A Young Scientist Fueled by Curiosity and a Desire to Help Others"
Anna Gousseva, Sollentuna, Sweden-based Development Engineer
Sollentuna, Sweden-based development engineer, Anna Gousseva always knew that she wanted to have a career where she could in some way help people better understand their health. While studying for her undergraduate degree in biotechnology at the KTH Royal Institute of Technology in Stockholm, Sweden, Anna became interested in diagnostic tests and medical assays, specifically how they help researchers discover cures for various diseases. In her time outside of class, Anna worked at a local hospital, performing administrative tasks and attending to basic patient needs. While she enjoyed the valuable experience she gained in the medical field, she realized that she wanted to find another way to fulfill her dream, while also pursuing her passion for biotechnology.
After completing her master's degree, Anna found a PerkinElmer job posting for a position helping to develop a non-invasive prenatal testing (NIPT) solution. She had heard about this type of novel screening in college and knew that it had the potential to help millions of pregnant women. She was excited about the possibility of using the skills she had recently acquired in her academic career to potentially be a part of such an important project.
In August of 2017, Anna joined PerkinElmer as a member of the R&D team, working specifically on the Vanadis® platform. This NIPT solution provides screening results for trisomy 21 (Down syndrome), trisomy 18 (Edwards syndrome) and trisomy 13 (Patau syndrome). It also eliminates the technical complexities traditionally associated with non-invasive prenatal screening, ultimately enabling more women to gain access to it and improving prenatal care on a global scale.
When Anna first arrived, she was tasked with helping the team finalize product specifications, including incubation time, processing temperature, component concentration and other optimization techniques to ensure peak performance. As she continued to grow in her role, Anna was given the opportunity to start working with customers in their labs, helping them both understand and learn how to use the product. While on-site, she received valuable feedback which she relayed to her team, and together, they collaborated on ways to innovatively meet these customers' needs, including ensuring ease of use and the ability to more efficiently and accurately understand results.
Anna also worked closely with a number of teams within the Company to help achieve various goals throughout the project. For example, she assisted with providing extensive documentation that helped validate claims needed to achieve CE-IVD approval for the Vanadis® platform. As the product combines many technologies and processes, including biochemistry, image analysis, instrument automation and software, completing the necessary documentation required significant teamwork.
From a professional development standpoint, Anna's close collaboration with her colleagues has both opened her eyes to other focus areas within the scientific field, as well as proved how critical teamwork is in a project like this. "Together, we know much more than we do when we work alone. By operating as one team, we are able to deliver more sophisticated and unique solutions for our customers," Said Anna. Anna is grateful that she is part of such a diverse group that pushes her to continue learning and exploring new areas.
For Anna, knowing that she is helping others through her work is the most rewarding part of her job, and she is proud to be fulfilling her dream of making an impact, "Even after more than two years on this team, I find myself anticipating the next challenge and can't wait to keep developing in my role. For the first time, I look forward to Mondays so I can get back in the lab and continue making discoveries that excite me."
*PerkinElmer's Vanadis® NIPT system is not available for clinical use in the U.S. Products may not be licensed in accordance with the laws in all countries, such as the U.S. and Canada. Please check with your local representative for availability.