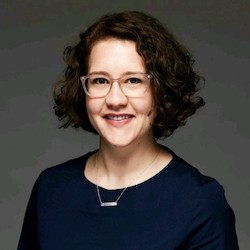 "A Global Perspective Inspires Innovation in New Areas"
Olivia Kelada, Senior Field Application Scientist, PerkinElmer
"Having the opportunity to research and study around the world has enabled me to not only meet many people and make connections, but also to learn my strengths and discover where I can make the greatest impact. I have realized that I cannot be an expert in everything, which has taught me to leverage the knowledge of my colleagues in other areas, whose expertise has helped me achieve my goals." For senior field application scientist, Olivia Kelada, global experiences have provided her with a variety of opportunities and prepared her for an impactful career.
Having lived in the Middle East, England, Ireland, Germany and Australia, Olivia finds that the ability to navigate and understand different cultures is important to effectively collaborating with others and achieving success in her professional endeavors. When she joined PerkinElmer in 2016 as a field application scientist, specializing in positron emission tomography (PET) imaging, her exposure to various perspectives continued. Although she is based in Hopkinton, Massachusetts, Olivia supports PET and micro-CT research throughout Europe, and the Americas and Asia Pacific regions. She also communicates with the global applications science team on a daily basis as part of her efforts to develop new applications for PerkinElmer's PET and micro-CT imaging instruments, to ultimately help meet customer's unique research needs.
"Within the scientific industry, we are often very siloed, which makes it even more critical to collaborate and learn from others." Olivia has ample opportunity to do this at PerkinElmer. "As a global company with solutions that range from newborn screening and food testing to environmental analysis and drug discovery, PerkinElmer provides us with the chance to team up with colleagues across different focus areas and regions. In doing so, we can better identify new ways to leverage technologies and capabilities across the company to deliver differentiated solutions for our customers."
Olivia's work doesn't just involve developing applications for customers around the world. She is also a strategic partner. She works alongside them in their labs, training them on PerkinElmer's instruments and helping advance their research by sharing how PerkinElmer's solutions can enable greater insights into the various applications they are exploring. Currently, Olivia is working with a researcher at the University of Utah on a project to analyze the effectiveness of micro-CT for pulmonary imaging applications. Specifically, the customer is using PerkinElmer's Quantum GX2 imaging system to examine mechanisms of drug responses and resistance in lung cancer to help improve treatment options for patients.
Olivia's global educational background laid the foundation for and inspired her work at PerkinElmer. After receiving her bachelor's degree in Radiation Therapy from Trinity College Dublin in Ireland, Olivia pursued her master's degree in Radiation Biology at Oxford University in England and subsequently received her Ph.D. in medical physics from the University of Heidelberg and DKFZ (German Cancer Research Center). Her thesis work brought her to the United States to complete a postgraduate research fellowship at Yale University. She then performed her postdoctoral research at Harvard University as part of the Dana Farber Cancer Institute, where she studied the effects of radiation on tumor vascularization and oxygenation.
As a testament to her efforts, Olivia recently received the Scientific Impact Award, which recognizes a member of the in vivo imaging or high content screening teams at PerkinElmer who has contributed the most publications, white papers and/or posters, resulting from engaging in collaborations with industry peers. With five published peer-reviewed papers and presentations, two more under review, and three conference presentations in 2018, Olivia has demonstrated a commitment to continued learning and a dedication to accelerating innovation within her field by working with colleagues.
Moving forward, she is excited to continue expanding her impact by exploring new research opportunities and discovering new applications for unique PET and micro-CT imaging methods. In doing so, she hopes to help customers identify potential therapies for a number of cancer types.