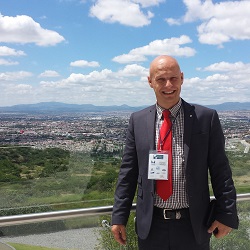 "A Dedication to Dairy Comes Full Circle"
Wopke Beukema, Senior Manager, R&D
Wopke Beukema spent every summer until he was 17 working on his uncle's dairy farm. He grew up in the Friesland region of the Netherlands - the dairy belt of the country and home to the famous black-and-white dairy cow. Wopke, now Senior Manager, R&D for PerkinElmer based at our Groningen, Netherlands office, gets to spend every day using his passion and experience in dairy to help better understand the needs of farmers and provide the solutions that address their most critical challenges.
Wopke's career in the dairy industry began after earning his degree in electronics. Shortly after, he started working as a global sales lead for Delta Instruments. It was there where he was able to first combine his education in technology with his background in dairy. He loved both the variety of the work and his ability to travel and see the world. When Delta Instruments was acquired by PerkinElmer in 2016, Wopke transitioned to a global marketing manager role, focused more on growing the Company's dairy business. And just a few years later, he seized an opportunity to become an R&D lead, where his sole focus now is on developing dairy testing solutions that help farmers, processors and regulators authenticate and protect the integrity and quality of their products. While his responsibilities are certainly different now, he enjoys the daily challenges and rewards, and especially enjoys working with so many teams and functions across the Company. "I think that is the great fun with PerkinElmer," he said. "Also, it helps in speeding up projects. In the past, we would do a project in a small group and it would take two years. Now we can actually do it with all these different teams in six months, which is a record time."
One of his favorite projects to work on has been PerkinElmer's recently launched IndiScope, a milk analysis system designed to make milk collection and analysis more efficient and reliable. As the interim project manager, he collaborated closely with the teams in India, despite the COVID-19 pandemic. "We've actually gained even more potential there," Wopke said. "We were forced to stay home and start working with people in new ways – and it is possible. It is really possible. We've never met these people in person, but we have really built close relationships with them. We understand how their world is, what their challenges are, and I think that is one win that this situation brought us."
One other area where Wopke sees collaboration being critical and that he truly enjoys, is with universities. For instance, he has worked for more than 20 years with Cornell University's food science program, helping develop tools for dairy farmers to improve both efficiency and the environmental impact of dairy farming. Wopke is excited to see a trend towards smaller dairy farms, especially in Europe, producing and selling locally – a shift from the heavy transportation of milk products only a few years ago. Not only does selling locally help lower the environmental impact of the dairy industry, but it also helps reduce the risk for biological and chemical contamination that comes with milk transportation.
Another increasing trend is the creation of technologies to bring solutions to the farms. The latest developments he personally has been involved with have been focused on "going upstream" and testing closer to the beginning of the process. By analyzing milk at collection sites instead of processing centers, contamination issues can be detected earlier. "Equipment today is getting relatively cheaper, and more tests can be done today for a lower cost," he said. "And food safety is certainly the biggest topic."
Wopke also sees the emergence of using the Internet of Things and big data to help farmers gain earlier insights. For instance, being able to track thousands of cows on a single farm can help farmers make more informed, data-driven decisions. Even after all of the years spent on his uncle's farm and with more than 30 years in the dairy industry, Wopke is more excited than ever about the future of his field. He is proud every day that he gets to help improve solutions for farmers and dairy processors to ensure the safety of dairy products for consumers around the world.