Whether your research involves better understanding molecular pathways of disease, tracking disease progression, or evaluating therapeutic effectiveness of drug candidates, your cutting-edge research commands high-sensitivity and reliable optical imaging data.
In vivo optical imaging is a fast, cost-efficient, easy-to-use, and powerful technique to help you non-invasively study molecular and biological processes of disease, or help drive discovery and development of novel drug candidates using bioluminescent or fluorescent reporters.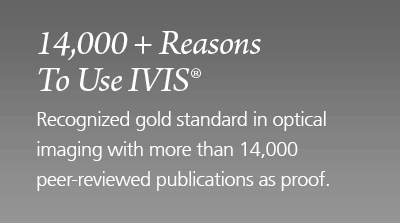 Bioluminescence and fluorescence imaging offer their own unique characteristics for small animal imaging. Bioluminescence imaging (BLI) uses luciferase genes and offers minimal background signals from the animal tissues, provides high specificity and precise quantification, and can be used to detect and monitor biological events such a tumor growth deep within the tissue. Fluorescence imaging (FLI) is ideal for monitoring and quantifying cell behavior of biological targets.
We are here to help you achieve your research goals with our leading IVIS® and FMT® molecular imaging platforms and diverse range of optical reagents. From single mode 2D optical and 3D tomography to multimode integrated systems, we have the tools you need to help you get the answers you are searching for.